Pest Control Topsfield, MA
Call
978-561-9555

for Pest Control in Topsfield, MA and Surrounding Towns.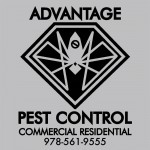 Advantage Pest Control offers Topsfield residents and businesses exterminator and pest control services. We deliver chemical, biological and cultural pest control methods to clear away your unwanted pest conditions. The protection of yourself, your family members, your personal property together with the environment are always our objective.
Advantage Pest Control gets rid of insect pests, problem animals, and rodents while using the latest bug control and pest management methods. Advantage Pest Control includes adjustments to your residence such as, installing chimney caps, vent covers, door sweeps, foundation repair and many other kinds of wildlife and insect exclusions. We take great pride in our well trained specialists & customer care. We have proficient service contractors which are open to work within the client's schedule.